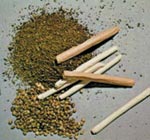 GANJA BUTTER

*INGREDIENTS*
cooking pot
water
butter
strainer
quarter of marijuana
big bowl

*STEPS*
Fill your cooking pot wit water and bring to a boiling point. Now put a small amount of butter into the pot of boiling water. As the water boils the butter melts into it, next take your marijuana and poor it into the the boiling mix. Now with the whole thing boiling the THC well boil into the mess. Keep re-stiring every 5 10 mins for an half n hour. Next take your strainer and place it over your bowl you are going to pour this into. Once you have pored into the bowl take the mush out of the strainer and squeeze the extra THC into the bowl. Place the mix into the fridge. Depending on how strong your fridge is after a few hours the mix will have turned solid. It well not look very good but it is GANJA BUTTER. Put this on your toast cook it with magic brownies if you want just enjoy!


BUD BARS

*INGREDIENTS*
one bag of Hershey's Chocolate Chips
1/4 cup podered sugar
1/4 OZ of your buds
baking sheat or candy bar shaping pan
double boiler

*STEPS*
In a double boiler, melt the chocolate chips until slightly chunky. Then in a blender, put buds in until they are finely chopped. Then add the chopped buds into the chocolate. Add sugar if you want it is not a necesity. Mix altogether, let it stay on heat for about five minutes. Take off the oven and let it cool down slightly. Grease a baking sheet or the candy bar shaping pan. Pour the mixture into it. Freeze the chocolate mixture until completely firm. Cut into two inch bars. Then enjoy!!!


SCOOBY SNACKS

*INGREDIENTS*
flour
two eggs
quaker dry oatmeal
vanilla
cocoa
sugar
one fourth pound butter =one stick(sugested ganja butter)
walnut extract
ounce of cut up grinded bud
cookie sheet

*STEPS*
Preheat the overn to 400 degrees. When heated lower to 350-300. Take a large mixing bowl and add 2 cups of flour, 2 eggs, 1 cup of quaker dry oatmeal, 1tbl of vanilla, 1/2cup cocoa, 1/2 cup sugaer, 1/4 pound butter, 1 tsp walnut extract, and 1 ounce of grinded up bud. Mix well for 7 mins if it seems dry and hard to mix add a very small amount of milk to loosen it up. Add more sugar pending on the taste of the mix befor cooking to determin to your taste. Grease up your cookie sheet and place mix down and bake for 6 to 12 mins. Pending on how large you make your scooby snacks. They can be cooked for shorter time for chewier scooby snacks or a longer time for harder scooby snacks.


MAGIC chocolate chip BROWNIES (my fav type of brownies)

*INGREDIENTS*
ganja butter (soft)
all-purpose flour
three eggs
baking powder
salt
sugar
FIRMLY PACKED dark brown sugar
vanilla extract
a 12 ounce package (2cups) of chocolate morsels
extra 8th (if wanted) of grinded up nugs

*STEPS*
Preheat the oven to 350 degrees. In a small bowl combine 2 cups flour, 2 teaspoons baking powder, and 1 teaspoon of salt and then put aside. In a large bowl combine 3/4 ganja butter, 3/4 cup sugar, 3/4 brown sugar, and 1 teaspoon vanilla extract mix it until very creamy.(you can add the extra 8th of nug if you want and are not sattisfied with your butter) Next add each egg but mix in well each egg sepretly. Now slowly and gradually add the small bowl of flower mixture and mix well. Stir in the chocolate morsels well. spead evenly into a well greased brownie pan suggested size 15x10x1 inch baking pan. Place into the oven to bake at 350 degrees for 30 to 40 mins. When done take out and let cool and then cut eat and enjoy!!!
MORE TO COME SOON SITE STILL BEING REUPDATED